Last Updated: April 15, 2017
Earn.gg isn't anything too special for making money watching videos, but it offers a little passive income. You can sign up for it here with my link.
You sign up via a Google profile. Once you sign up, you can begin watching with the EngageMe.tv button. There is also another offer for videos I have seen before on the home page that comes and goes.
If you want to earn with surveys, you will have to verify your account with Steam. You also can't use the chat on the side of the screen until you earn so much in the website.
My Earning with Earn.gg
I earned $0.30 to $0.50 a day with it. i used it on a computer. I don't think it works on mobile devices as I got an error when I tried to use it on my iOS device. It said the offer wasn't available for my device (EngageMe.tv). I tried to do it for most of the 24 hour day. Also since it is EngageMe.tv, you may have issues earning on it with other EngageMe.tv type services being used with other websites. This could have affected my earnings.
The cashout options are good. They have PayPal, Amazon, and even bitcoin! I requested my small payout accumulated within the earning log time period and received it instantly via PayPal.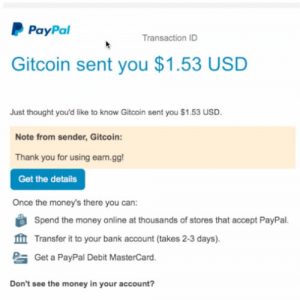 Although it is just EngageMe.tv, it appears I can get it to work with other similar offers being used on other devices. I will put Earn.gg in my routine.